Bright spot
The removal rate of COD and ammonia nitrogen in wastewater can reach 99%, in the case of the salinity is 1% in the wastewater
Xinfa Pharmaceutical Co., Ltd., founded in 1998, is a large manufacturer of feed additives, vitamins, veterinary materials and pharmaceutical intermediates. Among them, the productivity of folic acid (vitamin B9) reaches 1200 tons/year, ranking the first in the world. The production capacity of calcium d-pantothenate (vitamin B5) reached 7,000 tons per year, ranking the second in the world.
The  type of wastewater of Xinfa Pharmaceutical Co., Ltd. is pharmaceutical wastewater, mainly including folic acid, nitrobenzene, triamine aniline and other refractory benzene series And it also mixed with some domestic sewage, washing water and boiler wastewater. The water volume of the system is 3000m cubed /d, of which 1947.6m3/d is the production wastewater discharged by various projects in the park, and 1052.4m3/d is non-salt diluted water.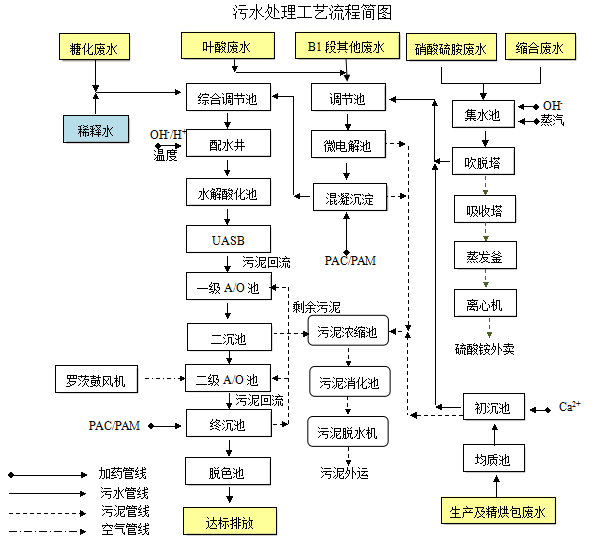 Process Flow chart of Xinfa Pharmaceutical Co., Ltd.
Through the analysis of the process flow and water quality situation, the following microbial strains are added into the wastewater: BIOFORM®CW bacteria agent, BIOFORM®CO bacteria agent, Bio-Form®cracking, Bio-Form® nitrogen removal, Bio-Form® nitrification, Bio-Form® decontamination, and NBAAmmonia nitrogen removal bacteria agent. After a month of debugging, the following is the inlet and outlet water quality contrast:

The following is  the effluent water quality data record (two weeks) of Xinfa Pharmaceutical Co., Ltd. The line chart shows that effluent COD is stable under 40 mg/L, ammonia nitrogen is stable under 5 mg/L, proving that Bio-Form's green microbial agents can help the water of system up to standard.
Line chart of effluent data in Xinfa Pharmaceutical Co., Ltd.